3 Tips to Help You Succeed in Buying a Home in Today's Sellers' Market!
Posted by Jay Singh on Thursday, August 25, 2022 at 2:01 PM
By Jay Singh / August 25, 2022
Comment
It's a great time to buy a home!
No, really. According to recent data, the supply of homes for sale is increasing, giving buyers like you additional options. But it's important to keep in mind that while inventory is improving, it's still a sellers' market. And that means you need to be prepared as you set out on your home search.
Here are three tips for buying the home of your dreams today:
1. Understand How Mortgage Rates Impact Your Homebuying Power
Mortgage rates have been on the rise lately, and if this trend continues, it could mean some big changes for homebuyers. In order to help you stay ahead of the curve, we've put together a chart that shows how different mortgage rates will impact your monthly payments. Keep in mind that this chart is just an example – rates can vary significantly from one lender to the next, so it's important to get quotes from multiple sources before making a decision.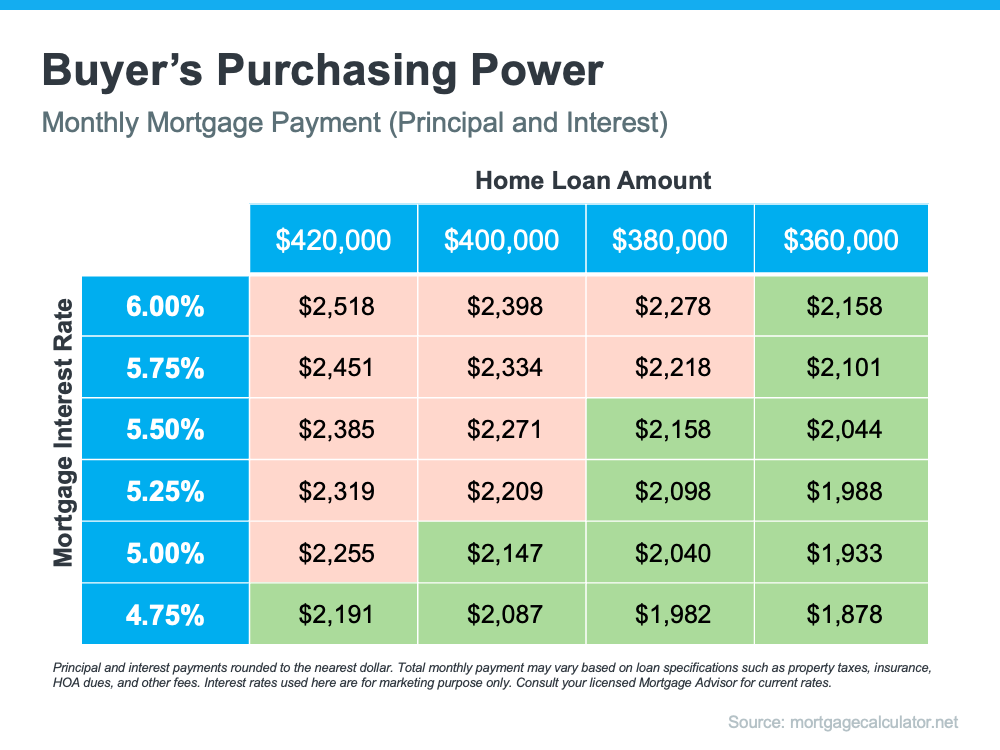 As the chart shows, even a small change in mortgage rates can have a big impact on your monthly payments. If rates rise, you could exceed your budget unless you pursue a lower home loan amount. If rates fall, your purchasing power may increase, which could give you additional options for your search.
2. Be Open to Exploring Different Options During Your Search
As you continue your search for the perfect home, it's important to remember that there are more options out there than you may think. A recent article from the Washington Post highlights a few things buyers can consider today. It encourages opening yourself up to more areas. For example, if there's a location you've previously ruled out (like a particular town, for example) it may be worth taking another look.
And if you're able to, opening your search up to include other housing types, like newly built homes, condominiums, or townhomes can further increase your pool of options. Even as the inventory of homes for sale improves today, finding ways to cast a wider net during your search could help you find a hidden gem.
3. Work with a Local Real Estate Professional for Expert Guidance
Are you thinking about buying a home in the near future? If so, it's important to be prepared. Working with a real estate professional is the best way to make sure you're ready to buy when the time comes. They can help you understand your local market and find available homes. Plus, they'll be an expert advisor and negotiator when it comes time to make an offer on a property. Ready to get started? Contact a real estate professional today!
Bottom Line
The hunt for the perfect home can be an exciting and overwhelming process. It's a huge investment, so you want to make sure you're ready before taking the plunge. If you're thinking of buying a home in the near future, it's important to work with a real estate professional who can help guide you through the process. Let's connect today to take this further!
Jay Singh Realty | RE/MAX Town & Country | 972-408-5021 | YourDFWRealEstateGuy.com |
Best Real Estate Agent in DFW | Best Real Estate Agent in Frisco, TX | Best Seller's Agent in DFW | Best Seller's Agent in Frisco, TX | Best Realtor in DFW | Sell Your Home Fast | Best Buyer's Agent in DFW | Best Buyer's Agent in Frisco, TX | Best Buyer's Agent in Plano, TX | Best Seller's Agent in Plano, TX | Best Realtor in Prosper TX | Best Seller's Agent in Prosper TX | Best Buyer's Agent in Prosper, TX | Best Realtor in Allen, TX | Best Buyer's Agent in Allen, TX | Best Seller's Agent in Allen, TX | Top rated agent in Dallas/Fort Worth | Best Realtor in McKinney, TX | Best seller's agent in McKinney, TX | Best Buyer's agent in McKinney, TX | Best Realtor in Murphy, TX | Best Realtor in Wylie, TX | Best Realtor in Celina, TX | Best Realtor in Coppell, TX | Best Realtor in Irving, TX | Best Realtor in Southlake, TX | Best Realtor in Flower Mound, TX | Best Realtor in Dallas/Fort Worth | Best Realtor in Lucas, TX | Best Realtor in Fairview, TX |