The Truth About the Housing Market: Why This Is Not Another 2008
Posted by Jay Singh on Wednesday, October 26, 2022 at 12:27:16 PM
By Jay Singh / October 26, 2022
Comment
It's hard to not hear about the housing market in the news lately. Between talk of a bubble and headlines proclaiming that "the market has shifted," it can be tough to know what's really going on. So, what is the truth? Is this another 2008? The answer may surprise you. In this blog post, Jay Singh Realty will take a closer look at the data and why this is nothing like the last time around.
There's Still a Shortage of Homes on the Market Today, Not a Surplus
In 2008, the housing market crashed because there were too many homes for sale (many of which were short sales and foreclosures) which caused the prices to fall dramatically. Now, 10 years later, we are seeing a very different picture. There is still a shortage of homes on the market, and prices are continuing to rise primarily due to almost 15 years of underbuilding homes.
The graph below uses data from the National Association of Realtors (NAR) to show how the months' supply of homes available now compares to 2008. Today, unsold inventory sits at just a 3.2-months' supply at the current sales pace, which is significantly lower than it was 10 years ago. This means that there are not enough homes on the market to meet the demand of the buyer's and for the home prices to come crashing down like they did last time.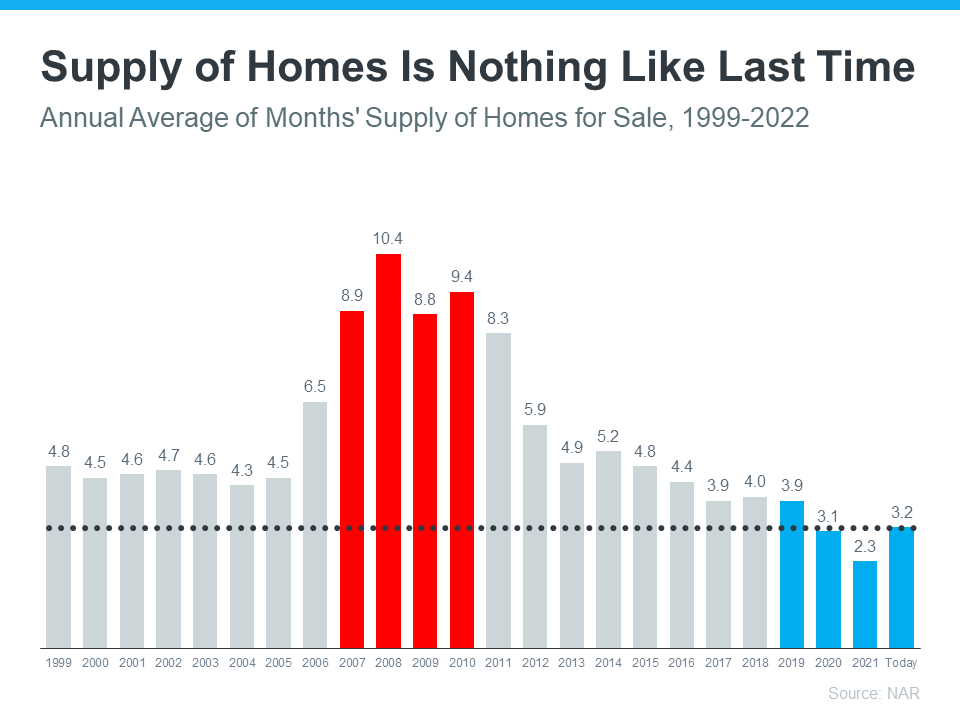 Mortgage Standards Were Much More Relaxed Back in 2008:
In the lead-up to the housing crisis, it was much easier to get a home loan than it is today. Banks were creating artificial demand by lowering lending standards and making it easy for just about anyone to qualify for a home loan or refinance their current home.
This led to mass defaults, foreclosures, and falling prices. Today, things are different, and purchasers face much higher standards from mortgage companies. The graph below uses Mortgage Credit Availability Index (MCAI) data from the Mortgage Bankers Association (MBA) to help tell this story. In that index, the higher the number, the easier it is to get a mortgage. The lower the number, the harder it is. In the latest report, the index fell by 5.4%, indicating standards are tightening.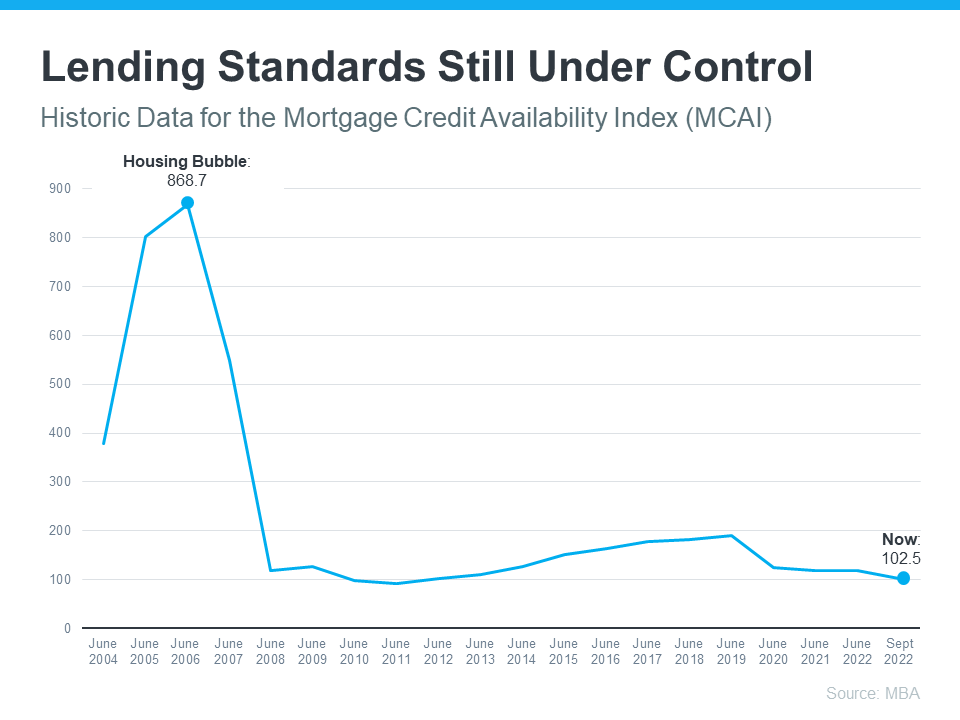 The housing crisis was caused by a perfect storm of greed, irresponsibility, and easy money. Greedy lenders and investors drove prices to unsustainable levels, while irresponsible borrowers took on mortgages they couldn't afford. When the bubble finally burst, it left a trail of devastation in its wake. Tighter lending standards over the past 14 years have helped prevent a scenario that would lead to a wave of foreclosures like the last time.
The Foreclosure Volume Is Nothing Like It Was During the Crash
The housing market has come a long way since the housing crisis of 2007. As you can see in the graph below, foreclosure activity is much lower today than it was back then. This is largely because buyers today are more qualified and less likely to default on their loans. The graph below uses data from ATTOM Data Solutions to help paint the picture of how different things are this time:
Not to mention, homeowners today have options they just didn't have in the housing crisis when so many people owed more on their mortgages than their homes were worth. Today homeowners are equity rich. According to CoreLogic:The total average equity per borrower has now reached almost $300,000, the highest in the data series.
This goes to show that homeowners are in a much better position this time around. If a homeowner is facing challenges with their mortgage, they may have more options this time around. Many have the option to use their equity to sell their house and avoid the foreclosure process. Talk to a real estate agent today to learn more about your options.
Jay Singh Realty | RE/MAX Town & Country | 972-408-5021 | YourDFWRealEstateGuy.com | Top Real Estate Team in DFW | You Tube Channel: https://www.youtube.com/channel/UCBw-99D8crsTYXZLmN79Z0w
Best Real Estate Agent in DFW | Best Real Estate Agent in Frisco, TX | Best Seller's Agent in DFW | Best Seller's Agent in Frisco, TX | Best Realtor in DFW | Sell Your Home Fast | Best Buyer's Agent in DFW | Best Buyer's Agent in Frisco, TX | Best Buyer's Agent in Plano, TX | Best Seller's Agent in Plano, TX | Best Realtor in Prosper TX | Best Seller's Agent in Prosper TX | Best Buyer's Agent in Prosper, TX | Best Realtor in Allen, TX | Best Buyer's Agent in Allen, TX | Best Seller's Agent in Allen, TX | Top rated agent in Dallas/Fort Worth | Best Realtor in McKinney, TX | Best seller's agent in McKinney, TX | Best Buyer's agent in McKinney, TX | Best Realtor in Murphy, TX | Best Realtor in Wylie, TX | Best Realtor in Celina, TX | Best Realtor in Coppell, TX | Best Realtor in Irving, TX | Best Realtor in Southlake, TX | Best Realtor in Flower Mound, TX | Best Realtor in Dallas/Fort Worth | Best Realtor in Lucas, TX | Best Realtor in Fairview, TX |