Top 3 Questions For Home Sellers To Consider About Selling Your Home This Winter.
Posted by Jay Singh on Friday, November 18, 2022 at 11:11:29 AM
By Jay Singh / November 18, 2022
Comment
With the housing market undergoing a shift this season, you may be asking yourself if it still makes sense to sell your house. Here are three of the top questions that come up in deciding whether or not selling is right for you - and data on how other homeowners have answered them!
1. Should I Wait To Sell?
The supply of homes for sale has increased in 2022, but inventory levels are still low. That means it's a sellers' market. The graph below helps put the inventory growth into perspective. Using data from NAR, it shows just how far off we are from flipping to a buyers' market: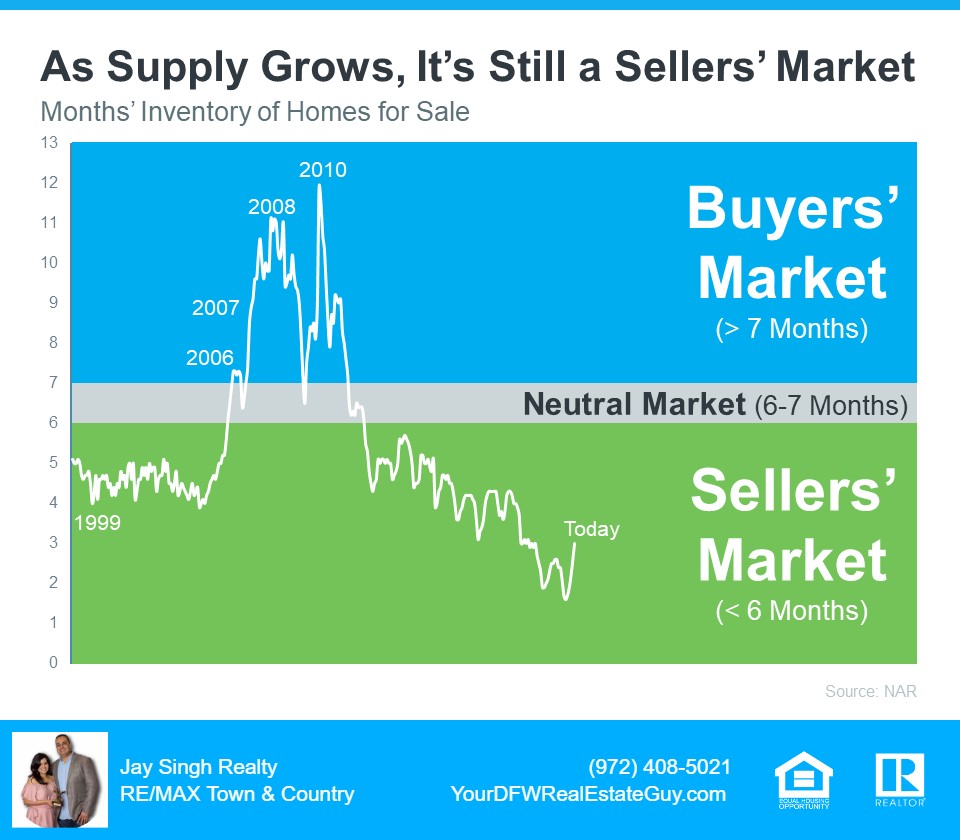 While buyers have regain some negotiation power as inventory has grown, you haven't missed your window of chance to sell! Your house could still stand out since there's such low supply and especially if listed now while other sellers wait until after the holiday rush and the start of the new year.
2. Are Buyers Still Out There?
When you're thinking about selling your home, it can be tempting to worry that buyer demand has disappeared in the face of higher mortgage rates. While demand has eased this year, millennials are still looking for homes. As an article in Forbes explains:
"At about 80 million strong, millennials currently make up the largest share of homebuyers (43%) in the U.S., according to a recent National Association of Realtors (NAR) report. Simply due to their numbers and eagerness to become homeowners, this cohort is quite literally shaping the next frontier of the homebuying process. Once known as the 'rent generation,' millennials have proven to be savvy buyers who are quite nimble in their quest to own real estate. In fact, I don't think it's a stretch to say they are the key to the overall health and stability of the current housing industry."
The millennial generation has been called the "renter" or "paper-thin" renters, but this may not be appropriate anymore. Millennials are actually driving force for buyer demand in housing market today; if you're wondering if buyers exist know that there is still people searching out homes to buy--and your house could very well suit their needs!
3. Can I Afford To Buy My Next Home?
Homeowners have gained significant equity in their homes over the past few years and that's something to consider when it comes time for a new mortgage. This gain in your equity can make a big difference in the affordability equation, especially with mortgage rates higher now than they were last year. According to Mark Fleming, Chief Economist at First American:
". . . homeowners, in aggregate, have historically high levels of home equity. For some of those equity-rich homeowners, that means moving and taking on a higher mortgage rate isn't a huge deal—especially if they are moving to a more affordable city."
Bottom Line
If you're thinking about selling your house this season, let's connect so you have the expert insights you need to make the best possible move today.
Jay Singh Realty | RE/MAX Town & Country | 972-408-5021 | YourDFWRealEstateGuy.com | Top Real Estate Team in DFW | You Tube Channel: https://www.youtube.com/channel/UCBw-99D8crsTYXZLmN79Z0w
Best Real Estate Agent in DFW | Best Real Estate Agent in Frisco, TX | Best Seller's Agent in DFW | Best Seller's Agent in Frisco, TX | Best Realtor in DFW | Sell Your Home Fast | Best Buyer's Agent in DFW | Best Buyer's Agent in Frisco, TX | Best Buyer's Agent in Plano, TX | Best Seller's Agent in Plano, TX | Best Realtor in Prosper TX | Best Seller's Agent in Prosper TX | Best Buyer's Agent in Prosper, TX | Best Realtor in Allen, TX | Best Buyer's Agent in Allen, TX | Best Seller's Agent in Allen, TX | Top rated agent in Dallas/Fort Worth | Best Realtor in McKinney, TX | Best seller's agent in McKinney, TX | Best Buyer's agent in McKinney, TX | Best Realtor in Murphy, TX | Best Realtor in Wylie, TX | Best Realtor in Celina, TX | Best Realtor in Coppell, TX | Best Realtor in Irving, TX | Best Realtor in Southlake, TX | Best Realtor in Flower Mound, TX | Best Realtor in Dallas/Fort Worth | Best Realtor in Lucas, TX | Best Realtor in Fairview, TX |