What's Happening with Home Prices? The Differences Among Appreciation, Depreciation, and Deceleration.
Posted by Jay Singh on Wednesday, August 31, 2022 at 9:36 AM
By Jay Singh / August 31, 2022
Comment
It can be difficult to understand what's happening with home prices these days. Headlines about ongoing price appreciation can be confusing, especially when you hear that some sellers are reducing the price of their homes. So what's actually going on?
In this blog post, we'll break down the differences among appreciation, depreciation, and deceleration. By understanding these terms, you'll have a better picture of what's happening with home prices today.
Appreciation is when home prices increase. This is generally a good thing for sellers, as it means they can sell their homes for more than they paid originally. However, appreciation can also make it more difficult for buyers to afford a home.
Depreciation is when home prices decrease. This can be caused by a number of factors, including a decrease in demand or an increase in the supply of homes on the market. Depreciation can be good for buyers, as it means they may be able to purchase a home at a lower price than before. However, it can be detrimental to sellers, who may end up owing more on their mortgage than the value of their home.
Deceleration is when home prices continue to appreciate, but at a slower or more moderate pace. This is generally considered to be a good thing, as it indicates that the housing market is stabilizing. Deceleration can benefit both buyers and sellers, as it can make purchasing or selling a home more predictable.
Experts agree that, nationally, what we're seeing today is deceleration. That means home prices are appreciating, just not at the record-breaking pace they have over the past year. In 2021, data from CoreLogic tells us home prices appreciated by an average of 15% nationwide. And earlier this year, that appreciation was upward of 20%. This year, experts forecast home prices will appreciate at a decelerated pace of around 10 to 11%, on average.
The graph below uses the latest data from CoreLogic to help tell the story of how home prices are decelerating, but not depreciating so far this year.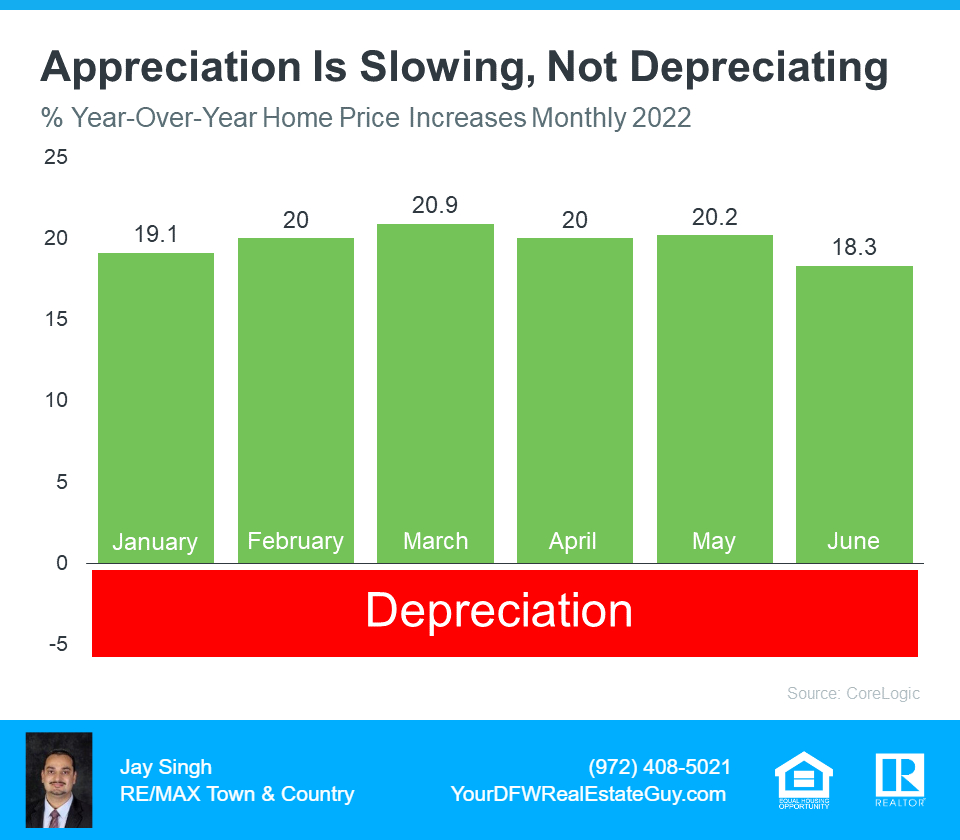 As the green bars show, home prices appreciated between 19-20% year-over-year from January to March. But over the last few months, the pace of that appreciation has decelerated to 18%. This means price growth is still climbing compared to last year but at a slower rate.
So what does all this mean for you? If you're thinking of buying a home, pay attention to trends in appreciation, depreciation, and deceleration. And if you're thinking of selling, be sure to consult with a real estate agent to get the most accurate estimate of your home's value. By understanding these terms, you'll be better equipped to make informed decisions about buying or selling a home.
Bottom Line
If you have questions about what's happening with home prices in our local area, let's connect.
Jay Singh Realty | RE/MAX Town & Country | 972-408-5021 | YourDFWRealEstateGuy.com | Top Real Estate Team in DFW |

Best Real Estate Agent in DFW | Best Real Estate Agent in Frisco, TX | Best Seller's Agent in DFW | Best Seller's Agent in Frisco, TX | Best Realtor in DFW | Sell Your Home Fast | Best Buyer's Agent in DFW | Best Buyer's Agent in Frisco, TX | Best Buyer's Agent in Plano, TX | Best Seller's Agent in Plano, TX | Best Realtor in Prosper TX | Best Seller's Agent in Prosper TX | Best Buyer's Agent in Prosper, TX | Best Realtor in Allen, TX | Best Buyer's Agent in Allen, TX | Best Seller's Agent in Allen, TX | Top rated agent in Dallas/Fort Worth | Best Realtor in McKinney, TX | Best seller's agent in McKinney, TX | Best Buyer's agent in McKinney, TX | Best Realtor in Murphy, TX | Best Realtor in Wylie, TX | Best Realtor in Celina, TX | Best Realtor in Coppell, TX | Best Realtor in Irving, TX | Best Realtor in Southlake, TX | Best Realtor in Flower Mound, TX | Best Realtor in Dallas/Fort Worth | Best Realtor in Lucas, TX | Best Realtor in Fairview, TX |